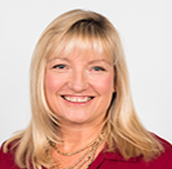 Karie Lin DeVries, M.D.
Dr. Karie DeVries is a Board Certified Obstetrician and Gynecologist and a Fellow of the American College of Obstetrics and Gynecology.
Dr. DeVries grew up in Michigan and attended the University of Michigan. While there, she earned a Bachelor of Science degree in Cellular and Molecular Biology and a Bachelor of Science degree in Psychology. She then attended Wayne State University in Detroit, where she earned her Medical Doctorate and  it is here that she remained to complete her residency training in Obstetrics and Gynecology. After completing her training, Dr. DeVries practiced Obstetrics and Gynecology at Bon Secours Hospital in Grosse Pointe, Michigan.
In 1997 she moved to Massachusetts where she joined the staff of the Deaconess Waltham Hospital and served as  Chief of the Department of Obstetrics & Gynecology.
In 2000, Dr. DeVries moved her practice to Newton Wellesley Hospital and joined Wellesley Women's Care, where she shares her passion for women's health care with her colleagues. She feels fortunate to work with physicians who share her drive to provide comprehensive and compassionate patient-centric care. Her areas of special interest include women's health care for all ages, low and high-risk obstetrics, contraceptive management, adolescent gynecology and abnormal Pap smear management. She sees patients in our Newton-Wellesley Hospital office as well as our Natick location and is accepting new patients.
Education
Wayne State University School of Medicine, 1987 - 1991
Detroit, MI
Medical Doctorate
University of Michigan, 1982 - 1987
Ann Arbor, MI
Bachelor of Science Cellular/Molecular Biology
Bachelor of Science Psychology
Post-Doctoral Training
Wayne State University/Hutzel Hospital, 1991 - 1995
Detroit, MI
Resident Obstetrics & Gynecology
Professional Societies
American College of Obstetrics and Gynecology, Fellow
Member of Massachusetts, Medical Society
Member of American Society of Colposcopy and Cervical Pathology