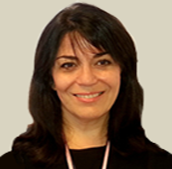 Afarin Greiger, M.D
Dr. Greiger has been practicing Obstetrics/Gynecology since 1998. She has been practicing at Newton Wellesley since 2009. She joined Wellesley Women's Care in 2015. Prior to joining us, she was with Southboro Medical Group from 2006-2014. She is Board Certified from the American College of Obstetrics and Gynecology.
Dr. Greiger was born in Iran where she attended and completed Medical School at Mashad University of Medical Science in Mashad, Iran. She completed her residency at Mashad University of Medical Science. In 2006, Dr. Greiger completed an additional residency at Tufts Medical Center in Boston.
After completing her training, Dr. Greiger joined the Southboro Medical Group, and in January of 2015, she became a partner with Wellesley Women's Group. Dr. Greiger sees patients in our Natick office as well as our main office on campus at Newton Wellesley Hospital.
Dr. Greiger's special interests are in Women's health of all ages, obstetrics, infertility and gynecology. Dr. Greiger also performs advanced laparoscopic gynecology surgeries including hysterectomy, ovarian cystectomy, removal of fibroids and sterilization surgeries. Dr. Greiger feels fortunate to work with her colleagues who share her passion for great patient care. She is accepting new patients.
Education
Mashad University of Medical Science
M.D. June 1994
Shiraz University of Medical Science, June 1980
Post-graduate Training
Tufts New England Medical Center, May 2002 to July 2006
Boston, MA
Residency
Mashad University of Medical Science, July 1994 to June 1998
Mashad, Iran
Residency
Professional Societies
American College of Obstetrics and Gynecology, Junior Fellow
Member of Massachusetts, Medical Society
Member of the American Society of Colposcopy and Cervical Pathology
American Medical Association